It was the inaugural graduation concert for Kinderland Muar ever since established in Oct 2014. We were excited to send off and can't wait to see our 1st batch of graduates soar higher as they enter their new learning journey. Preparation started months ago with conceptualised the theme of the concert, performance items and etc.
Practices and rehearses started once the theme had been set. Both teachers and students busy practising day in and out. The long awaited moment was here finally…
The concert started with singing of National anthem and Kinderland song by all performers and audience. Followed by welcome message by Mr Clarence Sia, Director of Avid Learners Sdn Bhd.
The youngest children, Pre-Nursery children performed 2 dance items – Baby Shark and Penguin Game.
Parents were happy and delighted to see them on stage. Their performance was not perfect but their courage to be able to perform in front of their parents and on stage worth loads of encouragement.
We always believe in children's capability. They are talented in many ways and teachers play the important role to unleash their potential. The Musical showcase children have hidden talent. Throughout the whole drama, there were many steps and plots that they have to remember. It was never an easy task for them as well as teachers. After months and months' practice, their efforts were paid off with the good show put on.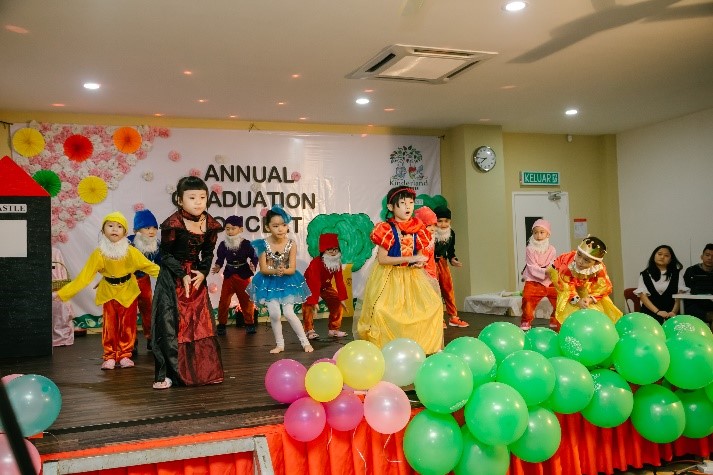 Besides the drama, the K1 & K2 children presented a dance item, Little Apple after the Snow White fainted due to the consumption of the poison apple. The rhythm of the dance was very refreshing and children had so much fun while dancing.
Thank you for the great effort put in by the children, teachers, centre helpers and parents. It won't be a success without all of you. Not to forget the participation and closing speech by Ms Danielle Tan, Senior Manager of Crestar Malaysia Education.
Everyone had an enjoyable evening and we looking forward to the next graduation concert in Year 2017!