Kinderland Theme-based Integrated Programme is closely related to young children's daily experiences to expand and extend their understanding of the world around them. Age-appropriate activities are carried out in a fun and exploratory way to promote the holistic development of a child (physical, intellectual, emotional, social and creative) and cultivate the child's potential in the areas of problem-solving and love for learning.
At Kinderland USJ, different mini projects are organized to provide substantial learning experiences to children. Through these mini projects, children express feelings and communicate ideas and thoughts. Mini projects provide opportunities for expansion of knowledge and skills and broader learning experience.
PROJECT: EATING OUT – PIZZA (PRE – NURSERY 1)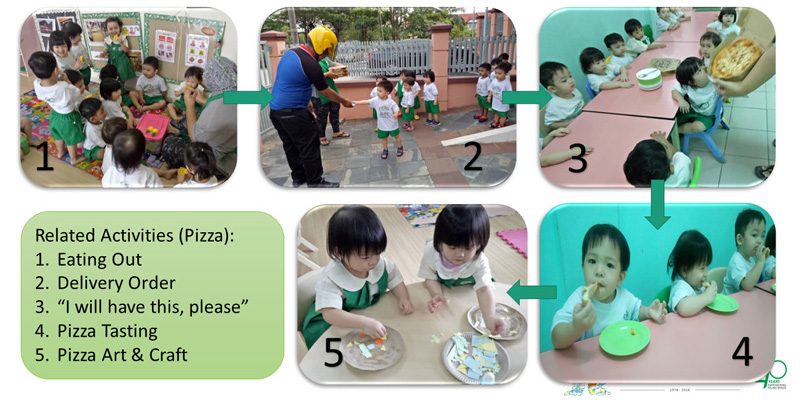 Eating Out Pizza Mini Project enabled children to relate to the delivery process, tasting pizza and making craft pizza. The children were encouraged to share their thoughts and ideas on colour, shape and taste with friends. This experience is valuable to children in their early years of learning to maximize their future well-being and ensure rapid intellectual growth and stimulation for long term consequences.
PROJECT: I AM A CHEF – FROM BAKING TO SELLING (PRE-NURSERY 1)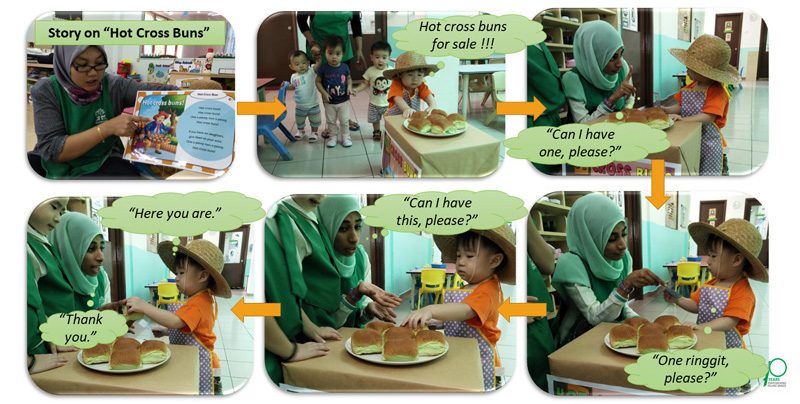 The "I am a Chef" mini project gave children a variety of learning experiences and is a practical way to teach kids basic life skills, as well as academic skills involving reading, science and math. A bake sale is also a great opportunity to teach children business lessons and it is great to involve children in business and entrepreneurship on a regular basis.
PROJECT: I AM A HAWKER – DOOR TO DOOR SALE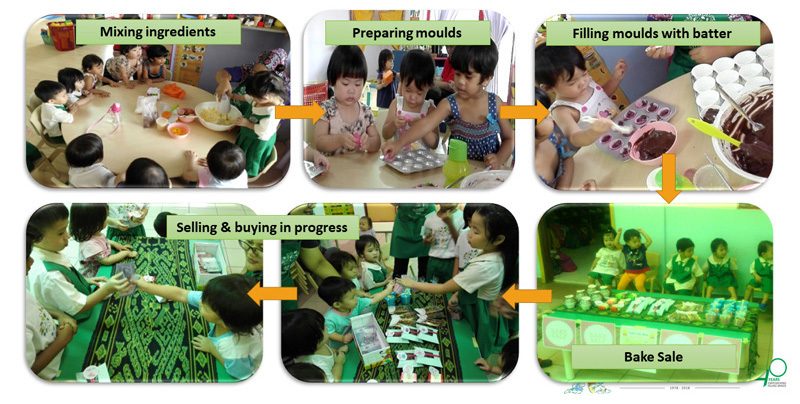 PROJECT: THE KINDERLAND FRUITS AND VEGETABLES MARKET – BUY & SELL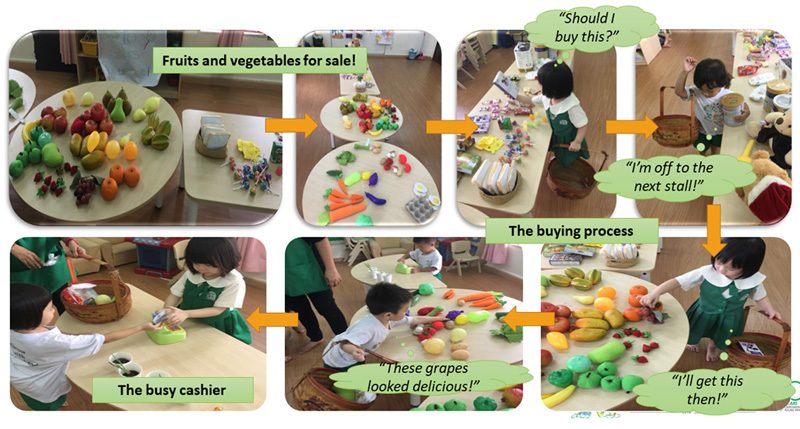 Subsequently, mini projects like "I am a hawker – door to door sale" and The Kinderland Fruits and Vegetable Market – Buy and Sell encourage young children to understand the concept and value of money. Simple conversations like "Can I have this please", "How much is this bun" or "Should I buy this?" arouse their curiosity and keenness to explore and to use process skills that they need in order to make sense of the world they live in, thus developing positive attitudes towards the learning areas.
PROJECT: PARENTAL INVOLVEMENT – PETS (PRE-NURSERY 2)

Parental involvement plays a significant role in children's learning. In "The Pet" mini project, two parents (a vet and a pet groomer) were invited to share their knowledge and expertise on caring for pets. This gave the encouragement to our children to care for domesticated animals and enhance their love of pets.