Children learn in many different ways. Some children learn through visual aids, some learn through songs, while others learn by moving around.
Whether your child learns best through listening to songs or by watching his teacher and peers, Kinderland's wholesome and sound academic curriculum and teaching methodology supports their aim in creating a holistic development for your child, at the same time providing a solid foundation in preparing your child for formal schooling.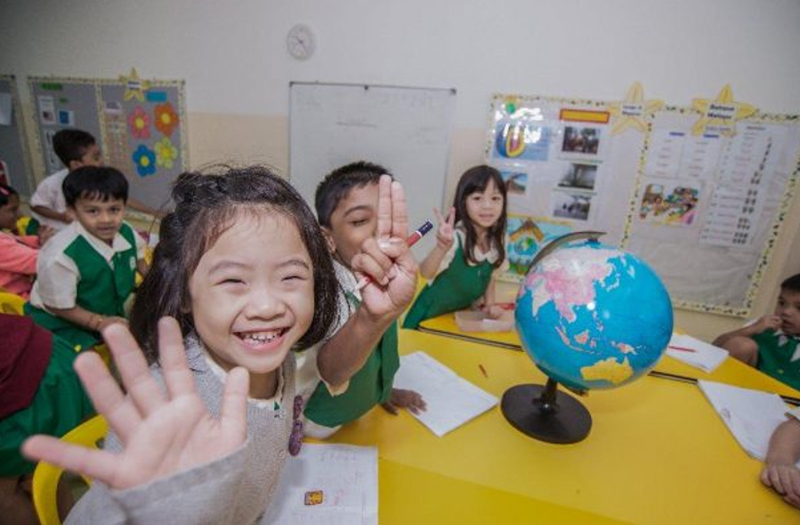 Here are the programmes which are uniquely Kinderland
1. Kinderland Children's Music Programme
For auditory, visual and kinesthetic learners
"Do…Re….Mi…Fa…So…"
It's 10.30am and the Kindergarten 1s are having their music class with their music teacher. With a room specially dedicated for music lessons, there are electric keyboards (Electones) for each student to learn and practice on. These lessons are conducted by professionally-qualified music teachers.
Dr Carol Loy, Curriculum Director of Kinderland encourage parents to sing happy songs with their children. "Don't underestimate the power of nursery rhymes. Songs help children to connect to their memories and happy music will help trigger these happy memories in children."
The courses also help children to improve their concentration, boost self-confidence, enhance their speech, express themselves better, and further develop sensory motor abilities, amongst others.
Kindergarten children (5 and 6 years of age) will be introduced to weekly keyboard lessons to further develop their listening, singing, keyboard playing and notation reading skills.
"Keyboards and electones have a softer touch compared to the piano. Exposing children to keyboard playing is highly beneficial because it activates and stimulates the small muscles and develops their fine motor skills.
When children play on the keyboard, they unknowingly do brain exercises. For example, when they cross their hands to play certain notes, this causes their hands to cross the body mid-point and by doing such cross lateral movements, the right brain is connected to the left body movement and vice-versa. Scientific studies have shown that such exercises help to stimulate the brain and keeps it active." Dr Loy explains.
In addition, younger age group starting from Pre-Nursery level (2 years old and above) are progressively exposed to Music Movement Programme (MMP). Children's natural enjoyment of music can be enhanced through consistent development of musical skills and understanding.
2. KinderFit Programme
Developed by physical education specialists to emphasize holistic wellness, the KinderFit programme is based on Rudolph Laban's movement-based framework as well as celebrated American cardiovascular fitness programme Feelin' Good, developed by Dr Charles T. Kuntzleman.
It is a structured wellness programme that is organized around the themes involving the body and its interrelationship with space, time, effort and flow. It enables young children to keep fit and feel great about themselves – includes fundamental movement activities, cardio-wellness programmes, lessons on healthy eating and nutrition, as well as customised meal plans.
Moving and Learning: Developing Fundamental Movement Skills
Through such activities, fundamental physical movement skills such as fine, gross and coordination skills will be honed. Your child will also acquire other important life skills such as self-confidence, cooperation and leadership skills. Children from Pre-Nursery classes (3 years old) and above will attend KinderFit classes in a dedicated space in the centre, with ample running space, cushioned mats, coloured gym blocks, and mirrored walls.
Use of Music and Themes
Exercises are complemented with music and the school's theme. What we really like are how storylines are woven into the fitness activities. Instead of simply throwing a bean bag into the basket, cute animal bean bags are used and children are encouraged to 'save the animals' by getting them back safely in their 'homes'.
Music is also used in the KinderFit programme. For example, specially selected songs with meaningful lyrics that build social values, self-esteem and confidence are used in the warm-up, main activity and cool down sessions.
Conducted weekly, each lesson covers both aerobic and strengthening exercises. Students are assessed on their development skills at the end of each term according to a checklist developed by the Kinderland Curriculum team.
Mr Mohammed Azhar, Senior Lecturer and Teaching Practicum Coordinator of the Physical Education and Sports Science at National Institute of Education in Singapore, who is also one of the KinderFit Programme creators, recommends the following fundamental movements for children aged 3 – 6 years old. 
3 – 4 years
Locomotor movements such as hopping, kicking and crawling
Non-locomotor movements such as balancing, bending and curling
You may also start with basic object control activities such as throwing and catching balls overhead
5 – 6 years
Locomotor movements such as galloping, sliding and rolling
Non-locomotor movements such as balancing on a beam and walking backwards
Object control activities can be extended to include dribbling, trapping and passing balls
Looking for a rich, holistic curriculum for your child? Kinderland may just be the school for your visual, auditory or active child.
For enquiry, do call us at +603-5632 2663 or register your interest here;